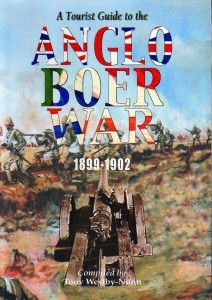 At the onset of the Anglo Boer War centenary (1899-1902), there was information on the war and tourist attractions supplied by the various regions – however, no one had compiled that information into one book that the tourists and others could use as a guide to the various and numerous sites throughout South Africa.
This was my first book – A Tourist Guide to the Anglo-Boer War. It also includes information on the Boer POW camps on St Helena Island. During my travels around the country researching the book, I came across a number of enthusiasts who supplied stories, anecdotes, original photographs and images, which I included in the book.
Now out of print – however, an update of the book is being published in 2020 titled A Guide to the Anglo Boer War – Part One. Western Cape & St Helena Island.