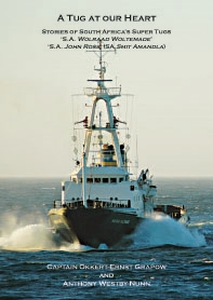 The title of the book reflects the feelings generated by the mere mention of the names of the 'supertugs', Wolraad Woltemade and John Ross/Smit Amandla now the SA Amandla.
South Africa's two super tugs – the largest and most powerful tugs in the world built in the 1970s (the Wolraad Woltemade and the John Ross. The book is a concise history of the two tugs and features, in addition to technical specifications, many stories and anecdotes by the masters and crew during the sometimes hazardous tows and salvages that the tugs undertook during their service. Extracts of towing rigs through the Magellan Straits, the Malacca Straits (whilst avoiding pirates), the Sakhalin Island in Russian territory, and many other salvage tows; especially those where avoiding and clearing oil pollution around the Cape of Good Hope became a necessity. The richly illustrated text documents the historical background and technical details on the one hand, the lives and fiercely partisan attitude and experiences of the people associated with them on the other.
The book is in full colour with numerous colour photographs and images. It is softcover which is ideally suited for reading. It is also a book that is unique in the subject it covers and a must for anyone interested in maritime subjects. Due to demand, it may be updated and reprinted in 2018.