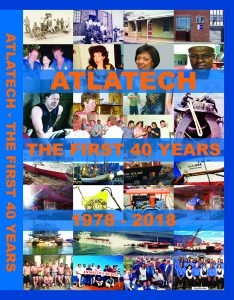 The company was started in 1978 when three intrepid young divers decided to launch their own commercial diving company and take on the large groups. The book of 328 pages covers the history of ATLATECH (Pty) LTD company from its inception in 1978 to present day 2018. There are amazing stories of salvage, repair and maintenance to vessels hulls, a number of profiles from past company members as well as the exciting operation that took place on the Castillo de Bellver in 1983 when both Jim Cooke and Coen de Beer received the highest civilian award for bravery – the Woltemade decoration for bravery – from the then State President, P. W. Botha. In addition, the work undertaken by the company over the four decades for Japan Marine Supplies & Services on the long-line Japan tuna vessels.
There are numerous interesting articles on the vessels that have been salvaged and repaired – all images in full colour – and a book that is most definitely most welcome to everyone interested in Shipping.
This is the first production of its kind in South Africa.