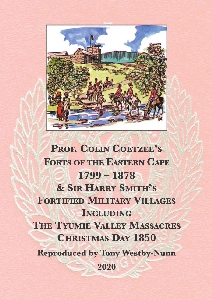 The 2021 edition of this reprint includes 80 pages of 'Sir Harry Smith's Fortified Military Villages' and 18 pages of a rare document titled 'The Tyumie Valley Massacres Christmas Day 1850'. In addition, there are a number of articles and images not shown in previous editions; all relating to the era of the Frontier Wars.
There are paintings by Thomas Baines, Frederick I'Ons, William Jervois, Captain King, Illustrated London News, The Graphic Magazine, and Andy May.
The 800+ page book is now professionally printed in hardcover and stitched.
A map showing the position of the Forts and Posts is included, as well as a map of the 1820 Settler properties.
The book is priced at R1 250.00 which includes PostNet to PostNet delivery in RSA.