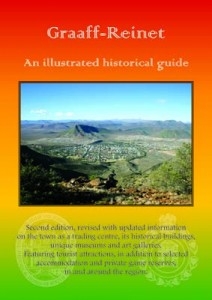 An illustrated historical guide – the second revised edition (2008) was published following public interest. It is of interest to tourists from South Africa and overseas. The book provides interesting information on the historic buildings, art galleries and museums – with reference to those that were restored and furnished with the kind sponsorship by the late Dr Anton Rupert and the Rupert Art Foundation.
The book is filled with the history of many of the town's personalities; including the Cape Rebels of the Anglo-Boer War, some of whom were executed.
The book is of interest to military enthusiasts as well.